Salesgenie Dashboard Redesign
Salesgenie began as a SaaS platform that was limited to allowing users to search and download sales leads matching specific criteria. Since the platform merely offered data in downloadable format, users had little incentive to renew their subscriptions once all data had been downloaded.
To combat this issue, the platform's strategy is shifting towards providing a comprehensive set of sales prospecting tools (data, email, direct mail, and CRM functionality) that allow a salesperson to find targeted leads AND work those leads through the sales funnel within a single service. Under this strategy, customers would use Salesgenie for all their sales prospecting needs, rather than downloading our data and subsequently using services offered by competitors.
The project to update the Salesgenie Dashboard was a step towards establishing this new value proposition with users, in addition to correcting certain usability problems along the way. If successful, the perception of Salesgenie would change from merely being a one-time data provider to a destination to perform sales prospecting activities on a frequent basis.
GOAL SETTING
We sought to establish the underlying assumptions that guide the project.
Objectives / Problems to Solve
Discovery of Useful Features
Visibility of Activity
Removal of Confusing Elements
Reinforcement, success, circular workflow
Metrics of Performance (KPIs)
Customer Retention Rate
% of Users that try other services
Engagement (Active Users per Timeframe)
High Level Scope / Constraints
No new features or functional changes to existing features
Limited to display of information that is currently available
No updates to header navigation
Considerations
Resilience to Variation in Packaging & Configurations
Existing Users & Workflows
Extensible Framework that can be tweaked without significant redesign
USER & Competitive Research
Job Mapping
Catalogue of discrete steps & goals of sales acquisition process
Focus Groups & Interviews
Target Customers, Internal Stakeholders, Customer Service Reps
Personas
Sales Person, Sales Manager
Conceptual Models
Lead Management, Team Structures & Responsibilities, Workflow, and others
Competitive Analysis
Catalogue of feature offering from competitors
Log Analysis
Data to support hypotheses on lead management and engagement
Example of Deliverables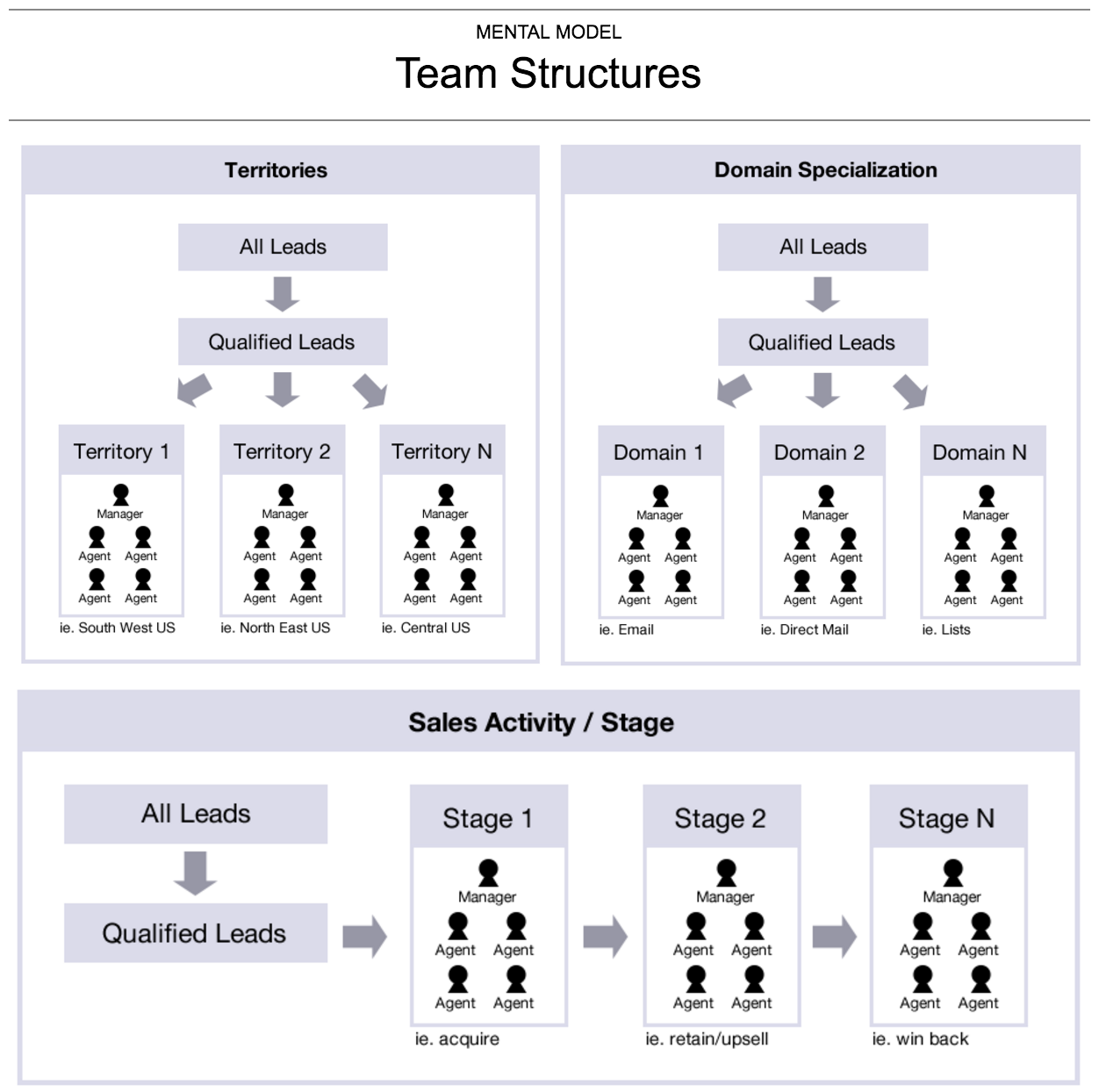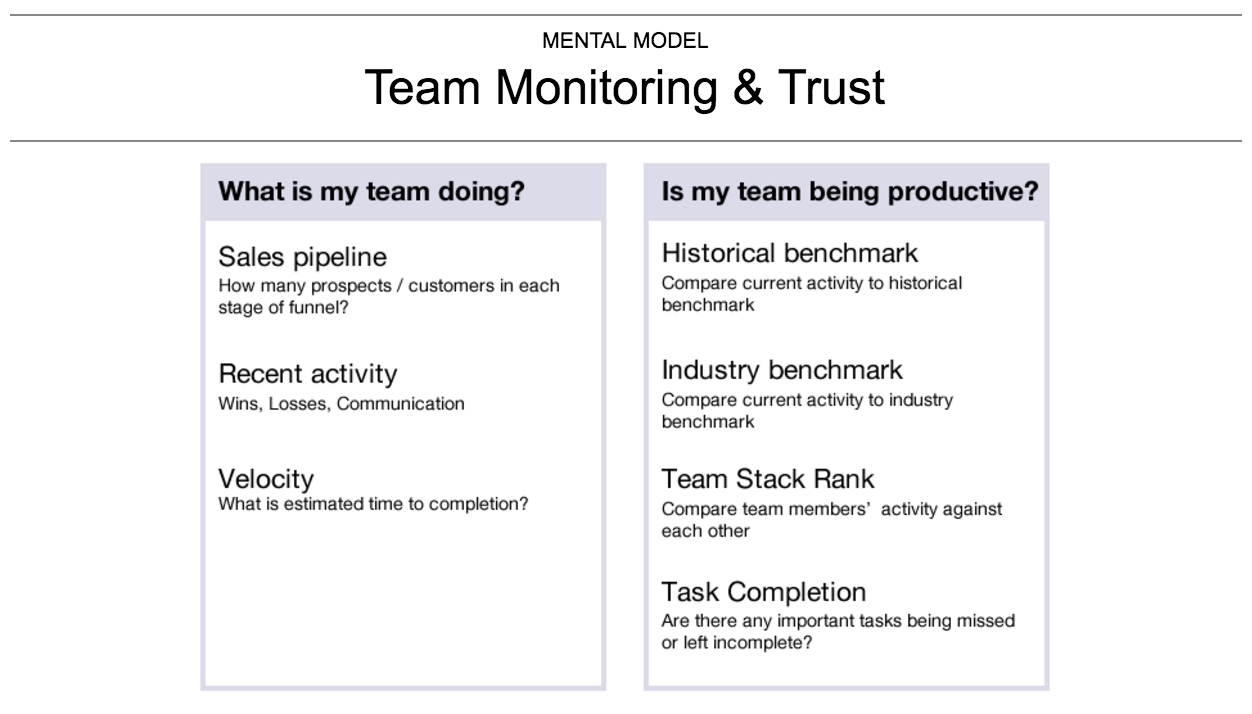 Key Insights
Users care about monitoring and tracking their progress
Would appreciate a way to correct problems in order to reach goals
Success = Meeting or exceeding quotas. Don't want to set unrealistic quotas or expectations
Emotionally, selling is not just about meeting your quota, it's about "Winning"
Many features go unused because users don't know they exist
With so many features, users may not understand how they fit together to form a meaningful workflow
User Need & Market Validation
Survey
Weighted ordering of needs based on perceived value
Result
Users would be willing to pay more for a service that gives them better predictability. to reach their sales quotas
High-Level Concepting & Brainstorming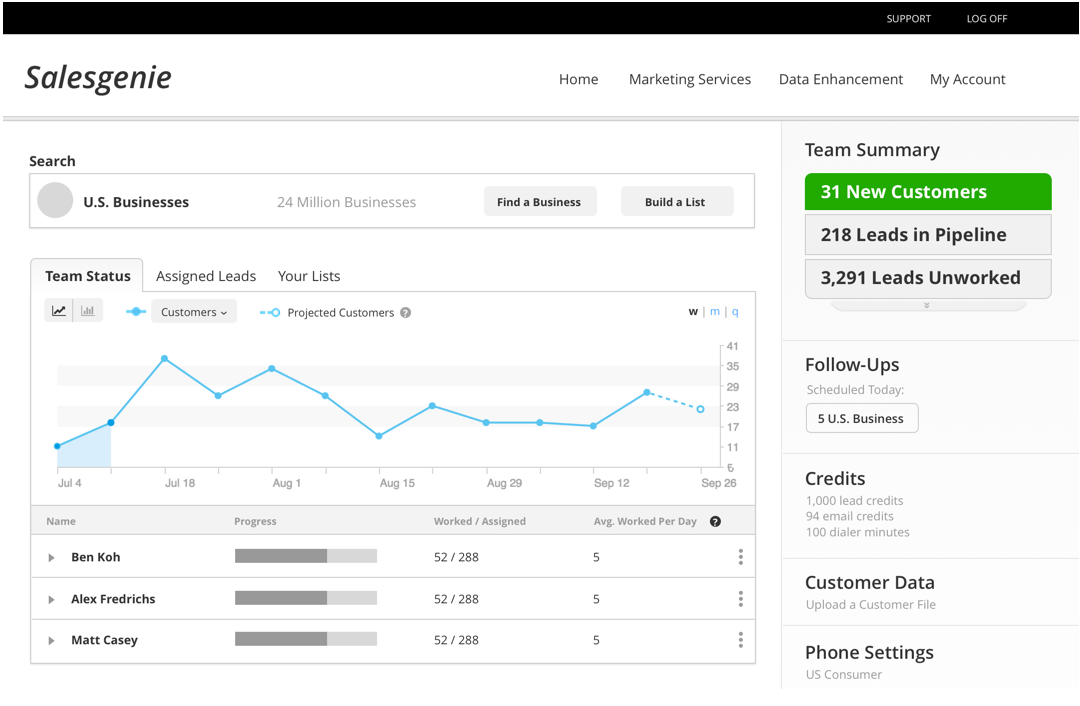 Concept Refinement & Testing
Detailed Wireframes & Requirements